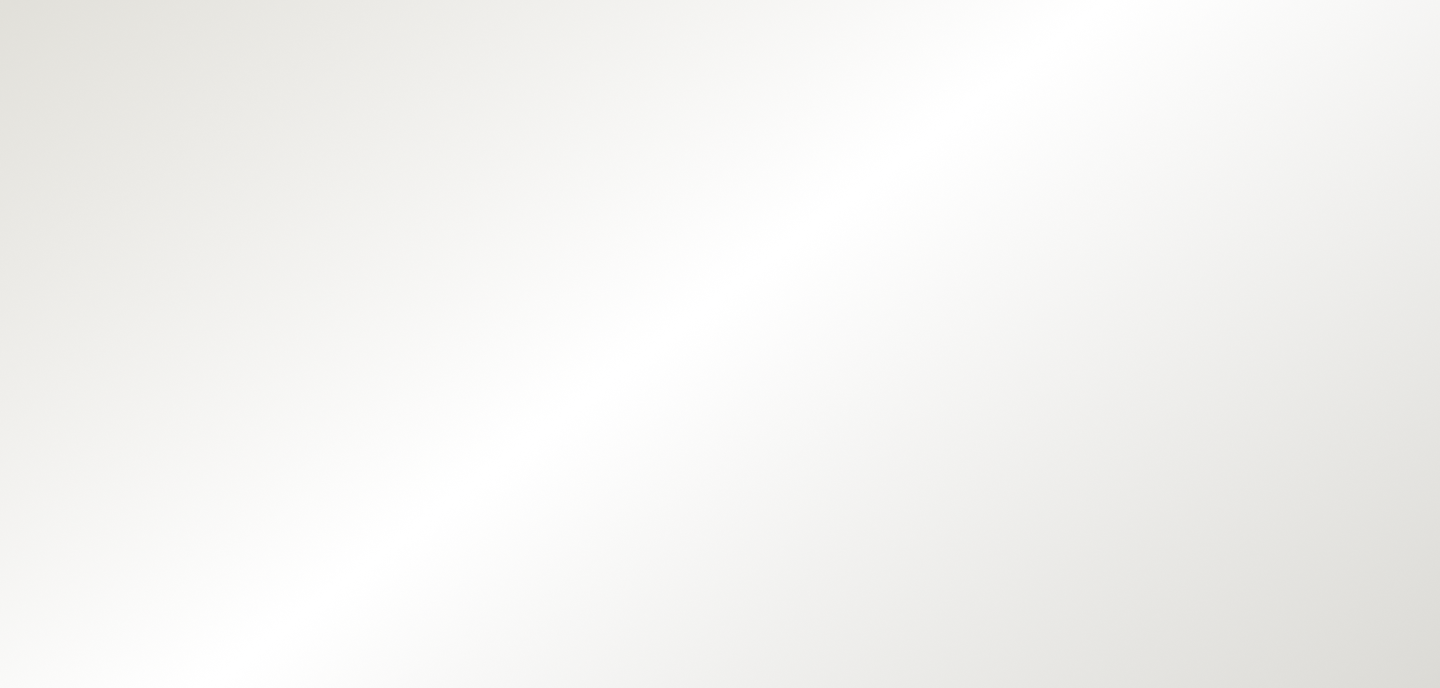 What you should know about
LGSOC
LGSOC is a rare, distinct form of epithelial ovarian cancer.2 LGSOC is characterized by:
Low-grade serous ovarian cancer is a rare form of ovarian cancer, which is clinically, histologically, and molecularly distinct from high-grade serous ovarian cancer (HGSOC).1,5 The distinct biology between LGSOC and HGSOC underlies the differences in their clinical course and overall prognosis.6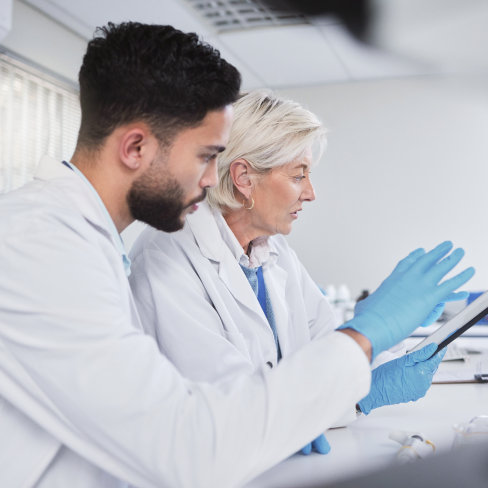 Signs and symptoms of LGSOC are nonspecific
Because signs and symptoms of LGSOC are nonspecific, patients may be misdiagnosed, and accurate diagnosis of LGSOC can be significantly delayed.7,8 In fact, ~80% of patients receive their diagnosis at advanced stages of LGSOC.2
LGSOC may be misdiagnosed.9 As the disease progresses, most patients experience severe pain and complications.7,10 Patients may suffer for years from ineffective treatments and a diminishing quality of life.11
Accurate diagnosis is especially critical for patients with LGSOC, who are often younger, to help protect their health, fertility, and long-term quality of life.12
The unmet need for LGSOC
Treatment
A particular challenge in the treatment of LGSOC is poor response rates to
chemotherapy compared to HGSOC.4 These patients are often diagnosed at later stages of disease9 and
are at high risk for recurrence:
Over

80%
Of LGSOC patients
will relapse2.
~80%
Of patients receive their
diagnosis at advanced stages2.
With no FDA-approved treatment options,13 LGSOC can be an overwhelming diagnosis and the beginning of a very long patient journey.12
–What's ahead?
Emerging treatments options
The assessment of several investigational approaches for LGSOC treatment are currently underway. An area of active research: approaches directed at inhibiting multiple nodes in the mitogen-activated protein kinase (RAS/MAPK) pathway.14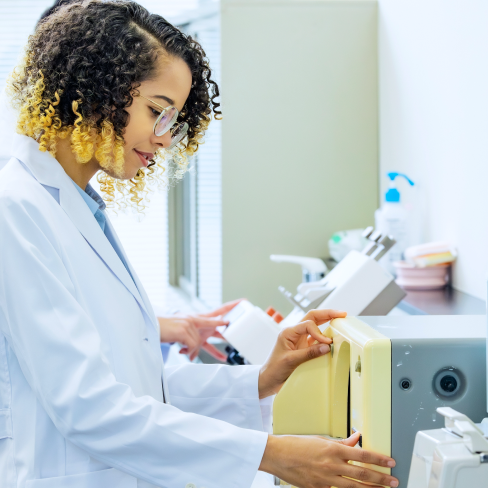 Resources for
you and your
patients
A robust set of materials is available based on the current evidence and publications.
Diagnosis and Management of Low-Grade Serous Carcinoma
View videos such as Experts and Patient Advocates Discuss LGSOC
Vang R, Shih IeM, Kurman RJ. Ovarian low-grade and high-grade serous carcinoma: pathogenesis, clinicopathologic and molecular biologic features, and diagnostic problems. Adv Anat Pathol. 2009;16(5):267-282. doi:10.1097/PAP.0b013e3181b4fffa
Babaier A, Mal H, Alselwi W, Ghatage P. Low-grade serous carcinoma of the ovary: The current status. Diagnostics (Basel). 2022;12(2):458. doi:10.3390/diagnostics12020458
Ali RH, Kalloger SE, Santos JL, et al. Stage II to IV low-grade serous carcinoma of the ovary is associated with a poor prognosis: a clinicopathologic study of 32 patients from a population-based tumor registry. Int J Gynecol Pathol. 2013;32(6):529-535.
Grabowski JP, Harter P, Heitz F, et al. Operability and chemotherapy responsiveness in advanced low-grade serous ovarian cancer. An analysis of the AGO Study Group metadatabase. Gynecol Oncol. 2016;140:457-462. doi:10.1016/j.ygyno.2016.01.022
Matsuo K, Machida H, Grubbs B, et al. Trends of low-grade serous ovarian carcinoma in the United States. J Gynecol Oncol. 2018;29(1):e15. doi:10.3802/jgo.2018.29.e15
Plaxe SC. Epidemiology of low-grade serous ovarian cancer. Am J Obstet Gynecol. 2008;198(4):459.e1-8; discussion 459.e8-9. doi:10.1016/j.ajog.2008.01.035
Certain symptoms may be early signs of ovarian cancer. Harvard Health. January 20, 2017. Accessed August 7, 2023. https://www.health.harvard.edu/cancer/certain-symptoms-may-be-early-signs-of-ovarian-cancer
Gockley A, Melamed A, Bregar AJ, et al. Outcomes of women with high-grade and low-grade advanced-stage serous epithelial ovarian cancer. Obstet Gynecol. 2017;129:439-447. doi:10.1097/AOG.0000000000001867
Malpica A, Deavers MT, Lu K, et al. Grading ovarian serous carcinoma using a two-tier system. Am J Surg Pathol. 2004;28(4):496-504. doi:10.1097/00000478-200404000-00009  
Alcid J, Shahin MS. Low-grade serous carcinoma of the ovary: A case series and literature review. Case Rep Images Oncology. 2018;4:100052Z10JA2018. doi:10.5348/100052Z10JA2018CS
Grisham RN, Slomovitz BM, Andrews N, et al. Low-grade serous ovarian cancer: expert consensus report on the state of the science. Published on Aug 17, 2023. Int J Gynecol Cancer. 2023;33(9):1331-1344. doi:10.1136/ijgc-2023-004610
Slomovitz B, Gourley C, Carey MS, et al. Low-grade serous ovarian cancer: State of the science. Gynecol Oncol. 2020;156(3):715-725. doi:10.1016/j.ygyno.2019.12.033
Banerjee SN, Ring KL, Nieuwenhuysen EV, et al. Initial efficacy and safety results from ENGOT-ov60/GOG-3052/RAMP 201: A phase 2 study of avutometinib (VS-6766) 6 defactinib in recurrent low-grade serous ovarian cancer (LGSOC). J Clin Oncol. 41. No 16_suppl (June 1, 2023) 5515-5515.
Manning-Geist B, Gordhandas S, Liu YL, et al. MAPK pathway genetic alterations are associated with prolonged overall survival in low-grade serous ovarian carcinoma. Clin Cancer Res. 2022;28:4456-4465. doi:10.1158/1078-0432.CCR-21-4183